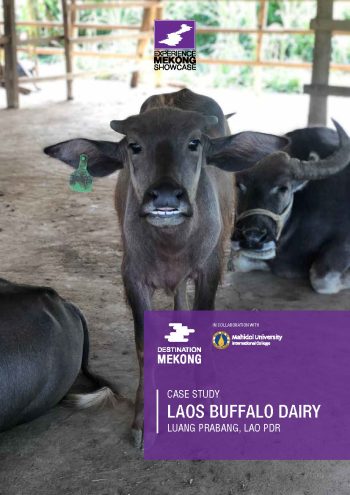 Business commitments in Singapore, since 2010, brought the two families together for what would prove to be a fortunate meeting. After many years of working for multinational corporations and having complementary skill sets, Susie Martin, Chef Rachel O'Shea and Steven McWhirter were all set for a new adventure. In 2014, they decided to move their families to Luang Prabang, a northern city in Laos PDR, where they enjoyed the beautiful landscape, culture and hospitality of local people. They soon started the first buffalo dairy, 23 kilometres away from the city, that would make important contributions to rural prosperity, nutrition, and animal welfare.
An inspirational idea on dairy farming was born when Susie and Rachel were walking through the local market. They assumed local farmers would make buffalo curd in the same way as they had experienced for breakfast in Sri Lanka. However, in this land full of buffalo, nobody they spoke to even knew what buffalo curd yoghurt was. It can be said that a dairy product culture is uncommon in Laos PDR and most people thought yogurt was made of fruit not milk, due to the yogurt cups from Thailand with big pictures of fruit on them. The sudden idea for dairy farming developed. They discovered a business opportunity with potential demand as there was no existence of a dairy farm in Laos at the time. After doing extensive research, they concluded that they could start their own dairy farm and the local community could benefit in the process.
You might also be interested in...