I first traveled to the Mekong region through the many stories shared by my parents about their childhood, and the delicious food prepared by my mother and my grandmothers. When I traveled into the region for the first time, I immediately felt a sense of familiarity and belonging and became passionate about the beauty and diversity of all the places I discovered throughout the years. Most importantly, I have truly valued the hospitality, generosity, and spirituality of the people I had a chance to meet. In so many ways, they helped me reconfirm my life purpose.
During my travels in the region I am always amazed about the variety of experiences it offers. Even within one country, the regions provide different environments, cultures, and vistas. The Khao Yai National Park in Thailand is very different from Chon Buri. The Mekong Delta in Vietnam is different from the central parts of the country. Luang Prabang is different from Vientiane. What excites me is learning about the life stories of the people, especially those, who want to make an impact. There are many things to learn from them on how they overcame adversities and what gives the strength to build a life for their families and support their communities.
After working in many other regions, coming to Cambodia in 2018 with a few weeks' notice was my first time in the Mekong Region. In Cambodia I was quickly enamored with the genuine warmth of the Khmer people. After wider travels I discovered a great diversity of culture and nature but linked with elements of shared heritage. The Great Mekong is a spirit that ties it all together. The region quickly pushes those that cannot connect away – but absorbs those that connect. I think I am rapidly falling into the later group.
"As the role of Destination Marketing and Management Organizations evolves, so must its business model. The public and private sectors must collaborate. Together, these two forces can achieve greatness. This is especially vital preparing for a sustainable and balanced tourism recovery."
"Diversity a Key for unlocking sustainability"is my faith in work. Mekong is the most accessible and manageable region from Korea and its level of diversity is above our imaginations. As a traveler, I am a strong believer that we can minimize the economic leakage of a country by staying at local-owned hotels, eating at local restaurants, and finding local tour operators.
In December 1999, on a private trip to Myanmar, I underwent a transformation though. I am not sure what triggered it: The light, the people, the slow pace of life or the spiritual mood that surrounded me as I moved among a 1,000 year old Buddhist temples and shrines. The landscapes I saw through my eyes somehow seem to reflect my inner landscape. Since then I came back and crisscrossed the region by foot, by boat, by plane, by car and on bicycle. The adventures and experiences I had along the way have all been extraordinary – sometimes sad, sometimes funny, but always fulfilling for the people I encountered and myself. 
I want to be part of realizing the possibilities beyond a conventional RMO (regional marketing organization) to being a bona fide leading tourism organization that stands for responsible, sustainable tourism and travel. There are development threats but also opportunities to collaborate with local communities.
I believe the Mekong Region and Japan carry diverse similarities and differences in their environment, society, economy and their people. This also means a vast opportunity to learn from each other, transform and redefine together a healthy balance. Issues of another country are not just theirs, our nature and neighborhoods are intertwined, and I believe the Mekong River is a breathing symbol of this. I am motivated to explore and discover lasting cooperation through movements of people, knowledge and practices amongst the countries, one step each towards a collective impact.
Opportunities, dynamism, resilience… These three words come to my mind every time I think of this place that I have called home for almost seven years. Over time, people in the Mekong countries have demonstrated their ability to accommodate change and external influences, while not allowing these to utterly transform their societies. The tourism sector can become a strong inclusion lever for underserved populations, as long as they are provided with the necessary productive and transversal skills, and sustainable employment opportunities. This requires coordinated efforts across the industry. 
The paradigm of Meaningful Tourism is a powerful tool to we developed during the pandemic to achieve more quality, benefits and satisfaction for all stakeholders in tourism. With trainings, publications, consulting, workshops and research I look forward to help the region to move away from Arrival Numbers as main KPI towards a concentration on a form of tourism, which cherishes quality more than quantity and give more people a chance to benefit from it.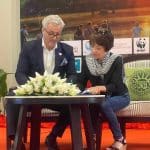 25 March 2023, Phnom Penh, Cambodia During the Destination Siem Reap Engagement Day on 25
Read More »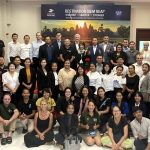 28 March 2023, Phnom Penh, Cambodia Destination Mekong and Siem Reap Tourism Club joined hands
Read More »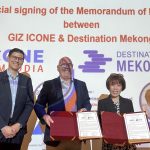 24 March 2023, Phnom Penh, Cambodia Destination Mekong and GIZ ICONE recently signed a Memorandum
Read More »