Enter the Kingdom of Wonder
When Portuguese trader, Diogo do Couto, reached Angkor in 1550, he knew the vast temple complex was once the capital of the Mekong region's largest-ever kingdom.
Some 300 years before his visit, the Khmer Empire stretched from Myanmar to the Mekong Delta, and commanded much of Laos and Thailand. But do Couto's expedition had to hack through jungle to uncover the abandoned, vine-smothered ruins, where a million people once lived.
Today, you can fly to the restored monuments as well as the capital Phnom Penh and find top-shelf hotels and restaurants. Pioneering spirits will find adventure and authentic encounters away from the main tourism centers. That's where Cambodia's "Kingdom of Wonder" shines, no matter which direction you choose.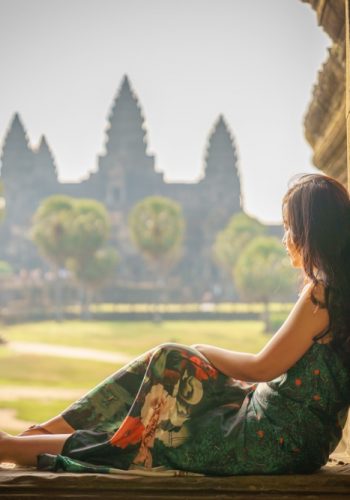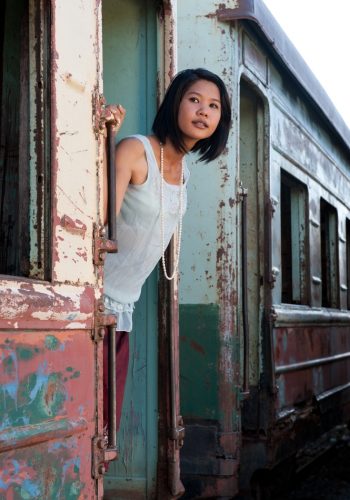 Wind your way up Ba Yang Mountain to a 7th century temple and a 1,000-metre-long waterfall canal. Scale Phnom Chissor's stairs to 11th century Angkor ruins and view rivers linking rice fields and lakes. Then, venture into Phnom Tamao's forest zoo and spot its wildlife including leopards, tigers, and bears.
Want to slow your pace? Grab a slice of Khmer life about 120 km from Phnom Penh in Kompong Thom. You can explore villages via oxcart, fish with locals, marvel at women working looms like pianos, watch men building boats, dine on Khmer food, chat with villagers while sipping sugar palm wine, and then tuck yourself into a traditional house for an unforgettable homestay.
Round out your Mekong Lowlands exploration with a day trip to Tonle Sap Lake. You can boat to floating villages andwetlands sanctuary filled with fluttering birds in this natural Mekong reservoir, which rises with the rainy season overflow.
Close to the Capital…The Mekong Lowlands
Step away from Phnom Penh and visit the Mekong Lowlands. Discover rarely seen Angkor-era ruins, explore a wildlife reserve, and immerse yourself in Khmer village life.
Drive south of Phnom Penh for about 40 km and into ancient history at Takeo, "The Cradle of Cambodian Civilization". Angkor Borei leads the list of structures built between the 5th and 8th centuries, and the surrounding hills reveal even more.
With 300 km left to Yangon, take a break at Mawlamyine. The one-time British colonial port, known as Moulmein, sits on the Thanlwin River Delta at the Gulf of Martaban. Taste the town's pre-WW2 flavor at the Zeigyi market and sample a smorgasbord of goods, then climb to the 1,100-year-old Kyaikthanlan Pagoda perched on a ridge.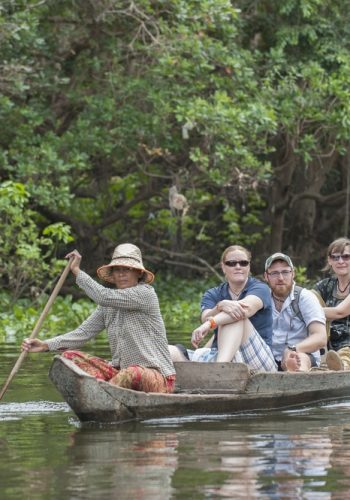 The Northeast…Mekong Life & "Go Remote"
Be among the few who travel up the Mekong to the Lao border, and experience life on the river before penetrating pristine nature in the green-soaked mountains of Cambodia's far northeast.
The road from Phnom Penh reaches Kratie, a relaxing Mekong town and springboard for spotting endangered Irrawaddy freshwater dolphins. The river widens as you continue north to Stung Treng, where several Mekong tributaries converge at the core of the "Mekong Discovery Trail".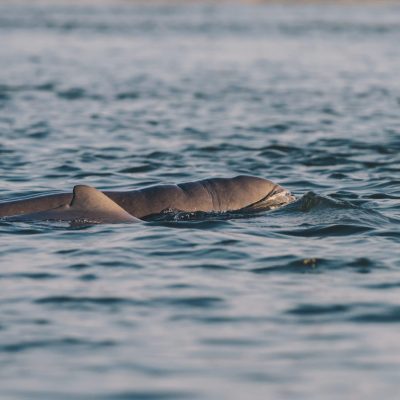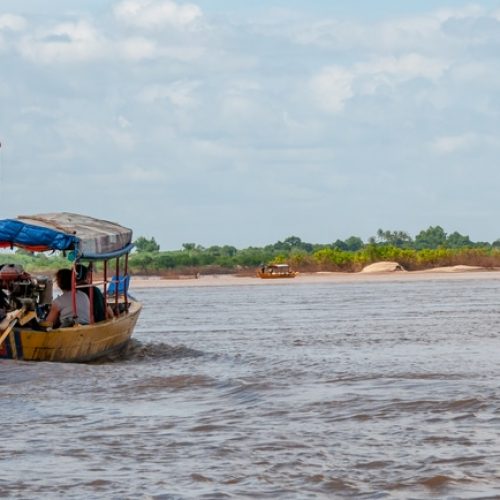 Take a boat, motorbike, or bicycle to explore the trail as the river cuts through massive stone outcrops and thick forests to reach raging rapids. Along the way, stop at the Ramsar wetland site to see exotic birdlife, hike to a waterfall, and investigate the forest paths around Ou Svay commune.
Easy access to distant Ban Lung and its mountain attractions teases those who really want to "go remote". Your adventure peaks at Yeak Loam, a plate-glass lake capping a dormant volcano, and that beckons you to dive in. An award-winning lakeside eco-retreat can organize day walks and overnight treks to ethnic minority villages in surrounding Virachey National Park.
The Outer Limits…Unseen History, Culture & Nature
Break from the tourist path and experience overlooked wonders by entering the country through Cambodia's overland checkpoints with Laos, Thailand, and Viet Nam, all offering tourist visas on arrival.
Cambodia's northern border checkpoint with Surin, Thailand, injects you into An Lung Veng, where Pol Pot spent his final days. Inspect the town's Tamu house with displays depicting Khmer Rouge life, and check out Cham Pey Waterfall pouring into a valley of green.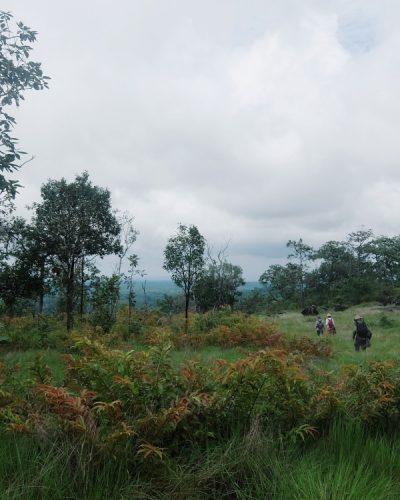 Mekong region expeditions from Viet Nam can choose the Ha Tien checkpoint near historic Kampot. Explore the Khmer Rouge's Kampong Trach mountain hideout and inspect Kep's old beach town with French architecture. Further north, the 1920s Bokor Hill resort now stands in the middle of a new resort development with scenic views of the azure bay below.
Continue west along the coast to Sihanoukville's quiet sandy beaches and explore nearby mangroves or tap into Prek Tuk Sap estuary's jungle walks and boat tours to search for macaques, sun bears, dolphins, and more than 150 species of birds.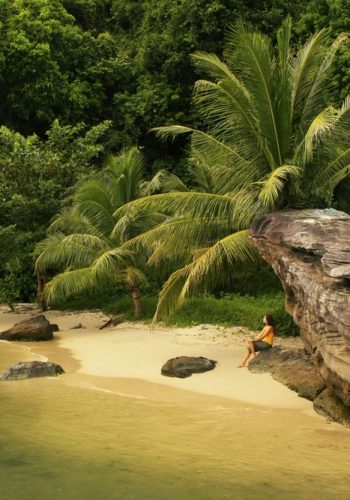 Southwest Cambodia's beaches and Cardamom Mountains remain small blips on most tourists' radar, but they're all yours after crossing the border at Trat, Thailand. Relax on Koh Kong Island's isolated sands and try to spot dolphins, or hike to its hidden waterfalls in a wildlife reserve.
The inland mountains were once impenetrable, but Chambok cracks open the door to adventurers hunting the ultimate rural experience. A forest backdrop and homestay host welcomes you to bicycle and oxcart rides to the community's villages, open-fire cooking classes, and a trail to swimming holes and a 40-metre waterfall. Hardcore explorers can trek into the wilderness and campout in the woods.