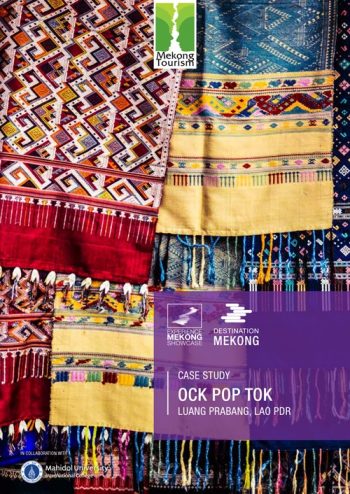 Ock Pop Tok, meaning "East Meets West" in Laos, was founded in the year 2000 by the two ladies Veomanee (Veo) Douangdala and Joanna (Jo) Smith. Ock Pop Tok was established on the principles of fair trade and sustainable business practices and was pioneering social business and ethical fashion before these terms were even a part of Lao's cultural lexicon. Ock Pop Tok has its living craft center two kilometres away on the outskirts of the ancient royal city of Luang Prabang, Laos, and two souvenir shops inside the city.
The business has grown from a small idea of the two passionate women, to then a tiny shop, to finally one of the most important textile and artisan institutions in all of Laos and Southeast Asia. Currently, Ock Pop Tok employs over 78 people, who are mostly local Laotians and whose standard of living has been positively improved through such business practices. The Ock Pop Tok family comprises of the Ock Pop Tok boutique, heritage shop, flagship shop, the Mekong Villa and the Silkroad café.
The partnership between Veo and Jo started in 1999 when Jo was on a EU-funded assignment to photograph development projects in northern Laos. Veo, meanwhile, was creating her own name with her own unique work within the Lao artisan community. Veo and Jo share common interests and goals as they both love traditional hand-loomed textiles with the desire to preserve and promote it to the world.
Mekong Tourism Coordinating Office (MTCO)
You might also be interested in...