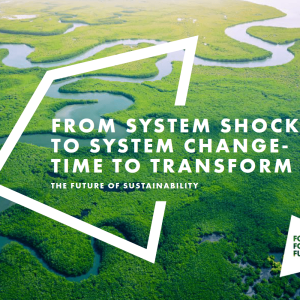 FROM SYSTEM SHOCK TO SYSTEM CHANGE – TIME TO TRANSFORM
We live in times of great disruption. Our lives are changing in ways we could not have imagined less than a year ago. And many of the certainties on which we have built our collective response to sustainability challenges, as well as the social and governance structures that underpin the systems we rely on, are being challenged.
Assumptions we made then about the likely trajectories of the coming decade towards sustainability have been thrown up into the air by the impact of COVID-19. And the pieces don't look like falling back into place anytime soon.
In this report, we explore some of the key dynamics that lie at the heart of these transitions. And we ask how we can make active choices now that will transform our future prospects by embedding, at the heart of our strategies and plans, the realisation that a fundamentally different model is needed. A model that puts people's wellbeing and planetary health first, as the overriding imperatives.
Planetary health is not separate to human wellbeing. The two are intricately intertwined. In order to achieve the just, resilient and truly sustainable world we want we advocate a regenerative approach – enhancing the underlying capacity of all individuals, communities and ecosystems, to be healthy, to keep evolving, and fulfilling their potential.
FROM SYSTEM SHOCK TO SYSTEM CHANGE – TIME TO TRANSFORM
You might also be interested in...