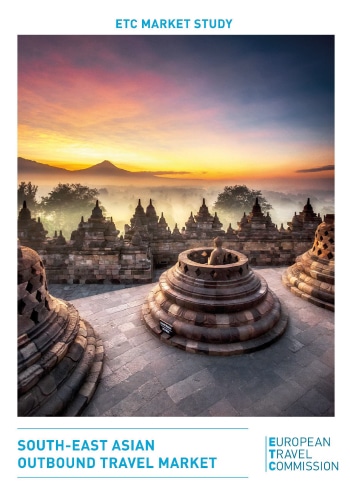 South-East Asian Outbound Travel Market
The four key outbound travel markets in the South-East Asian region: Singapore, Malaysia, Indonesia and Thailand, have shown tremendous growth over the past several years, generating over 40 million outbound departures and USD 53 billion outbound travel expenditure in 2017. These markets have the potential to make a significant contribution to European inbound travel flows in the coming years.
This study was conducted amongst potential visitors to Europe, both first-time and repeat visitors, who intend to visit Europe in the next five years. Findings of this study are therefore specific to this target segment and need not necessarily apply to general outbound travellers from South-East Asia.
Overall outcomes from this study appear to be quite similar across the four markets under examination, albeit with some differences in travel habits, behaviour and perceptions.

The study reveals that Europe is the most aspirational holiday spot among long-haul destinations for South-East Asian travellers. The region is perceived as a destination that offers scenic beauty and natural landscapes, good weather, diversity of cultural/historical attractions, holiday experiences and activities. These elements are what drive travel to Europe among both first-time and repeat visitors.
Europe's image as a prestigious holiday destination is also an important motivating factor for South-East Asians to visit the continent. In fact, first-time visitors who tend to visit multiple destinations on their trip, prioritise countries that are perceived to be more 'prestigious' such as France, Italy and Germany. The ease of borderless travel between countries, backed by a well-developed tourism infrastructure, adds to Europe's appeal as a continent with 'unity in diversity'.

Holiday activities centre on sightseeing, visiting historical and cultural attractions, local gastronomy and
shopping, which mirror the main drivers for travel to Europe. Specific exploration of different passion-related or interest-based travel themes among South-East Asian consumers establishes Europe's perceived competitive advantage on slow adventure, culture and history, nature, city life and local gastronomy – the top five travel themes considered as 'important to be able to experience it' or as the 'main reason for travel'.

On the negative side, Europe is seen as an expensive holiday destination which is the main barrier to travel to the continent. Limited air connectivity (direct flights), especially from Malaysia and Indonesia, and the need to apply for a Schengen visa (for citizens of Indonesia and Thailand) are other key deterrents for travel to Europe from these markets.
South-East Asian Outbound Travel Market
European Travel Commission (ETC)
You might also be interested in...