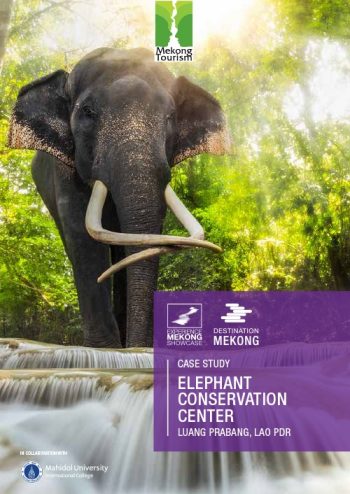 Elephant Conservation Center
The Elephant Conservation Centre (ECC), located in Sayaboury, Lao People's Democratic Republic (Lao PDR), aims to preserve and protect the Asian elephant, a species that is on the brink of extinction. ECC was established in 2011 and is the only active member in Lao PDR of the Asian Captive Elephant Working Group, an international organisation that promotes the welfare of elephants under human care. ECC also provides responsible and sustainable travel experiences to tourists by emphasising on and prioritising elephant conservation and the wellbeing of these animals. The centre is considered a social enterprise managed by international and professional teams of experts in elephant conservation, including veterinarians, mahouts and biologists. These specialists share the mutual goal of contributing to the long-term preservation of Asian elephants in Laos.
ECC was established because of a real need for elephant conservation in Laos, particularly in Sayaboury. These elephants were used for heavy logging and faced the threat of extinction because the majority of them were not breeding, thereby resulting in low birth rates. The team realised that immediate action was needed. Otherwise, 'Lane Xang' or the 'land of a million elephants' would lose its elephant population and Laos would lose a significant cultural symbol.
ECC is currently implementing several projects to promote elephant conservation. These projects include a breeding programme, elephant socialisation areas, an endocrinology laboratory to monitor the oestrous cycle of female elephants, education programmes for children and mahouts in the community and promotion of conservation tourism.
At ECC, visitors can contribute to elephant conservation and experience a memorable visit. The income generated from ECC's tourism activities will go directly to the work of the centre, a local NGO and ElefantAsia, which is a nationwide elephant conservation program in Laos.
ECC also created an online platform to communicate and spread information via its official website and social media platforms, including Facebook, Instagram and YouTube. The centre also collaborates with an online travel agency to promote the site and identify the problems that should be solved.
Apart from contributing to the protection of a highly endangered species, ECC also ensures a sustainable and fair income for mahouts and their families. Hence, tourists visiting ECC could support an environment-friendly organisation with a fair business approach. Additionally, their visit would protect ancestral cultures, knowledge and traditions as well as a rich tropical ecosystem.
Elephant Conservation Center
Mekong Tourism Coordinating Office (MTCO)
You might also be interested in...