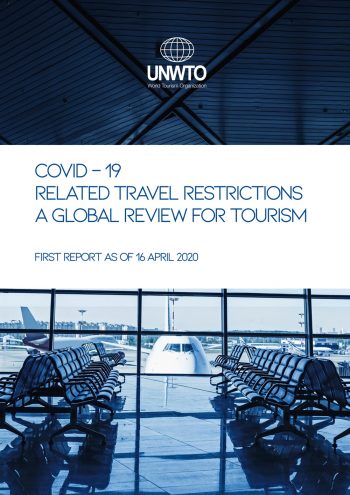 COVID-19 Related Travel Restrictions a Global Review for Tourism
The overall purpose of this interim report is to provide information on the implementation of travel restrictions by governments as one of the means to address the global health crisis of COVID-19. It shall help to better understand the overall process, from the issuing of travel restrictions and their evolution over time to their date of lifting, including references to the different categories of applied restrictions among other details.
This report is based on desk research carried out from end of January 2020 until 6 April 2020 and is based on the results of monitoring all travel restrictions that have been implemented during this period through the review of official websites that provide information on travel restrictions, in particular the International Air Transport Association (IATA) Travel Centre4 and the World Health Organization (WHO) Extranet, as well as the International SOS travel restrictions datacontributing to the online platform of the World Food Programme on global travel restrictions.
COVID-19 Related Travel Restrictions a Global Review for Tourism
UN World Tourism Organization (UNWTO)