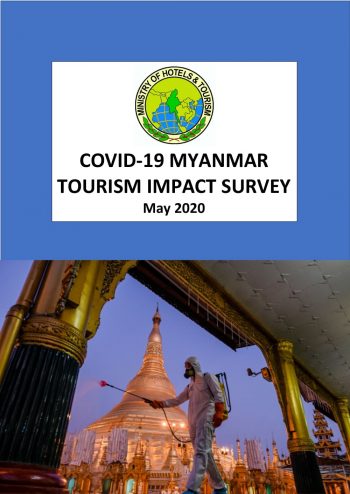 COVID-19 Myanmar Tourism Impact Survey
COVID-19 has devastated the international tourism and hospitality industry in just a few short months creating massive unemployment and leaving airlines, hotels and travel companies in severe financial difficulties. Never has the global industry faced such a crisis as the current situation with the sector facing a massive 100 million jobs losses due to the coronavirus pandemic, according to the World Travel & Tourism Council (WTTC). The startling figure, based on research from WTTC, has increased by over 30% in the last four weeks, indicating the sheer crisis affecting the sector.
In Myanmar, the situation is no different than most places in the world, industry sources and reports indicate a significant loss of employment in the industry, the closure of many businesses, hotels and restaurants facing an uncertain future and a recovery that could take years.
In light of the serious situation in Myanmar, the Ministry of Hotels and Tourism, with the support of Lux-Development, prepared a survey instrument to try to identify the key issues that micro, small and medium tourism businesses (MSMEs) are facing and to use this information in the months ahead to address some of the impacts. 
The objective was to take a snapshot of where the travel and tourism industry is at this critical time to better understand where resources and efforts should be deployed to help the sector. It will also provide a baseline study for the expected UNWTO Myanmar Tourism Response and Recovery Plan, and help focus on the priority training and capacity development needs of the sector. 
The results will be shared with the respondents to the survey and with other relevant parties to help inform about the current status of the industry. This is but a small step in preparation and planning for recovery of the tourism and hospitality sector in the months and years ahead.
The GSTC Criteria have been developed and revised while striving to adhere to the Standard-Setting Code of the ISEAL Alliance, the body recognized to provide guidance on international norms for developing sustainability standards in all sectors. The most recent revision of the GSTC-D took place in 2019 and was based on two rounds of stakeholder consultation. Information on the development of the criteria and plans for future revisions are available on www.gstcouncil.org.
COVID-19 Myanmar Tourism Impact Survey
Ministry of Hotels & Tourism Myanmar
Luxembourg Agency for Development Cooperation (LUXDEV)