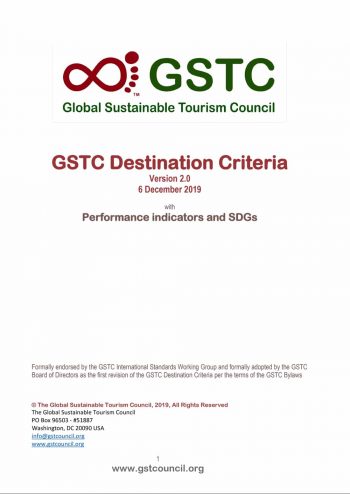 GSTC Destination Criteria
The Global Sustainable Tourism Council (GSTC) Criteria were created to provide a common understanding of sustainable tourism. The GSTC Destinations Criteria – known informally also as "GSTC-D" — are the minimum that any tourism destination should aspire to reach. They are organized around four main themes: sustainable management; socio-economic impacts; cultural impacts; and environmental impacts. They have applicability to the entire tourism sector.
The GSTC Criteria have been developed and revised while striving to adhere to the Standard-Setting Code of the ISEAL Alliance, the body recognized to provide guidance on international norms for developing sustainability standards in all sectors. The most recent revision of the GSTC-D took place in 2019 and was based on two rounds of stakeholder consultation. Information on the development of the criteria and plans for future revisions are available on www.gstcouncil.org.
GSTC Destination Criteria
GSTC (Global Sustainable Tourism Council)