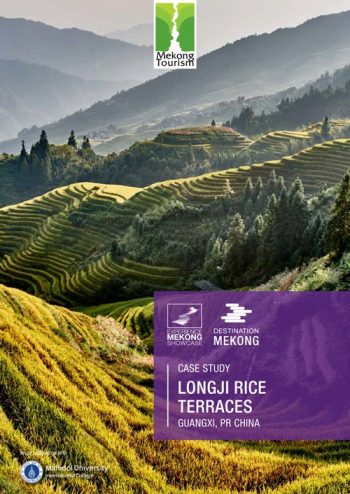 Case Study Longji Rice Terraces
The Longji rice terraces are located on the mountainside of Longsheng County, with 105 kilometres north to the Guilin City, Guangxi Zhuang Autonomous Region to the southern part of the People's Republic of China. The Longji rice terraces are also known by another name The Dragon's Backbone Rice Terraces. It represents the profound Chinese wisdom on the cultural of Dragon spirit, as well as the hardship laboring lifestyle of the local Zhuang people, living in the mountainous regions (Mekong Tourism, 2017). The Longji rice terraces have a long history since the beginning of the construction during the Yuan Dynasty (1271-1368) and it was completed in the early Qing Dynasty (1644-1911), with a constructing history of over 800 years. The fascinating rice terraces cover 66 square kilometres of the Longsheng county's mountain, with the altitude from 300 meters to 1100 metres (Travel China Guide, n.d.). Longji rice terraces have been listed as one of the Globally Important Agricultural Heritage Systems (GIAHS).
Case Study Longji Rice Terraces
Mekong Tourism Coordinating Office (MTCO)
You might also be interested in...