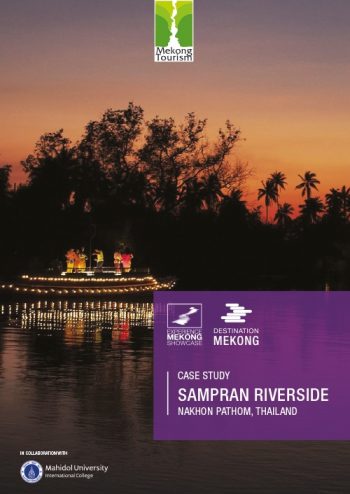 Located on a 70-acre plot along the Tha Chin River, Sampran Riverside (formerly known as the Rose Garden) is a family-run eco cultural destination; now famous for its wide range of sustainable initiatives and its sustainable business model. The business was established in 1962 by the founder, Khun Ying Valee Yuvaboon, a self-taught landscape designer who developed the property as a family retreat. Later on, the place was transferred to her daughter, Ms Suchada Yuvaboon, in the early 1980s; who turned it into a beautiful rose garden, and gave it a similar name. Currently, the business is being run by Mr Arrut Navaraj, the son of Ms Suchada. The 49-year-old entrepreneur took over the operation around 13 years ago, and is the Managing Director of the Sampran Riverside.
As a destination, Sampran Riverside provides visitors with an authentic traditional Thai way of life, as well as emphasising on its eco-cultural and sustainable activities. Visitors can experience authentic Thai hospitality, sample traditional Thai cuisine with organic ingredients from the farm, stay in an antique Thai house, relax in the Patom Organic Spa, enjoy cultural workshops and visit the local farmers who supply the organic produce. The property has been operating for more than four decades and was honored with the Award of Excellence in Best Tourist Attraction, and for its Recreational activities from the Tourism Authority of Thailand in 1996 and 2008.
Sampran Riverside has been developed entirely as a tourist attraction, with a strong intention to create a sustainable business model that considers the balance of economy, society, and the environment; and that engages in a number of sustainable activities. For instance, they announced a pledge on food waste, and they conduct the organic farming as well as promoting go green practices. The Sampran Riverside joined the Food Waste Prevention Project with the LightBlue Environmental Consulting Company, supported by Thailand Convention & Exhibition Bureau (TCEB), in order to reduce waste from the hotel's food services, and decrease the negative consequences on the environment.
Mr Arrut has made Sampran Riverside one of the most recognisable eco-tourism destinations. He has also improved the quality of life of the local farmers, which has proven to be highly successful and raised wide interests. The resort's organic farming project has been internationally approved by the International Federation of Organic Agriculture Movements (IFOAM), the European Union, and Canada. 
The Sampran Model was introduced in 2009 to feature a practical adaptation of King Bhumibol's the Sufficiency Economy and the Explosion from Within in the context of local business development. From the start, the Sampran Model focuses on the Organic Social Movement for a balanced life, and has become a popular representing a holistic system of sustainable business practices. 
Mekong Tourism Coordinating Office (MTCO)
You might also be interested in...