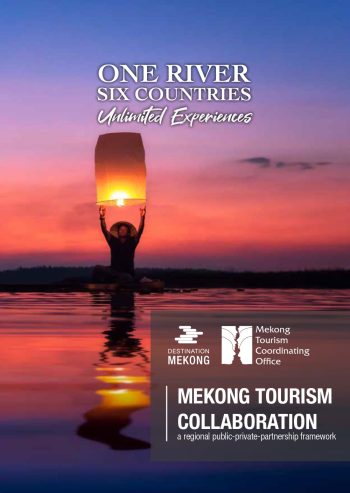 Mekong Tourism Collaboration
Tourism in the Mekong Region is steered collaboratively by a public-private framework between the public and private sectors.
The Mekong Tourism Coordinating Office, which is the secretariat of the Tourism Working Group, and Destination Mekong, which is the destination marketing organization led by private sector partners, are both managing initiatives aligned to the GMS Tourism Strategy to create a sustainable and inclusive environment to support businesses and communities in the Mekong Region and provide benefits for all stakeholders – residents, travelers, and businesses.
The Mekong Tourism Collaboration is public-private partnership bringing together the public and private sectors of the travel and tourism industry of the region. The public sector arm is represented by the Mekong Tourism Coordinating Office (MTCO) acting as the secretariat of the six member governments of the Greater Mekong Subregion, represented by the tourism ministries of Cambodia (Ministry of Tourism), Lao PDR (Ministry of Information, Culture, and Tourism), Myanmar (Ministry of Hotels & Tourism), PR China (Ministry of Culture and Tourism), Thailand (Ministry of Tourism and Sports), and Viet Nam (Vietnam National Administration of Tourism). The role of the Mekong Tourism Coordinating Office primarily focuses coordinating and facilitating initiatives between the public and the private sectors, including the organization of the bi-annual GMS Tourism Working Group meetings, helps to produce the annual Mekong Tourism Forum, manage the MekongTourism.org travel trade industry website, featuring the electronic resource library as a regional tourism knowledge repository. Finally, the MTCO publishes the 10-year Mekong Tourism Sector Strategy and the 5-year Mekong Tourism Marketing Strategy. Since 2006, the Mekong Tourism Coordinating Office (MTCO) is hosted by the Ministry of Tourism and Sports of Thailand, in Bangkok.
The strategic framework connects the public and private sector arms, in order to ensure alignment, and transparent cooperation. The private sector arm of the Mekong Tourism Collaboration framework is represented by Destination Mekong (DM), acting as the regional tourism board, consists of a Board of Directors, as well as the Mekong Tourism Advisory Group (MeTAG), which ensures relevance and engagement of initiatives. Destination Mekong hosts various programs and initiatives, outlined at DestinationMekong.com, that are aligned to the Mekong Tourism strategic plans by interpreting the action steps and executing sustainable programs. All programs are designed to stimulate collaborative activities driven by incentivized engagement – to ensure that engagement is fueled by individual stakeholder incentives, where increased participation leads to overall community benefits. Since 2021, Destination Mekong is hosted by the Ministry of Tourism of Cambodia, in Phnom Penh.
Mekong Tourism Collaboration
Destination Mekong & Mekong Tourism Coordinating Office
You might also be interested in...