5000+ meals donated as off the 4th May 2020
Mulberry Boutique Hotel, Jaya House Hotels, Treeline Urban Resort & The Cambodian Landmine Museum have formed a community-based partnership with the sole goal of making a simple difference; providing basic nutrition.  
As we know #siemreap relies heavily on Tourism; yet despite the usually huge number of tourists visiting Siem Reap every year, the province remains one of the poorest in Cambodia. Even when business is booming, 50% of the population live below the poverty line (3200 riel / 79 cents per day). 
Now that the #coronavirus crisis has hit, the Hospitality Industry has come to a devastating and grinding halt. Many jobs have been lost, many hotels closed and many Khmer without an income to provide for themselves let alone their families.
With the rice growing harvesting season still a long way off and the Monsoons fast approaching; the threat of malnutrition and water borne diseases is upon us.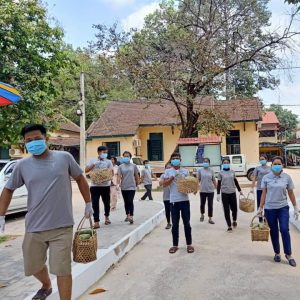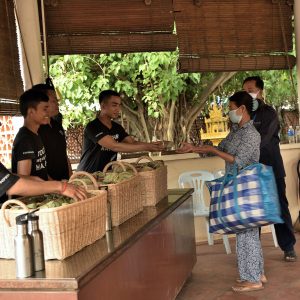 5000+ meals delivered
For the past few weeks 300+ meals daily have been provided and tons of rice donated to various locations; people are coming out in droves, calmly, gently, gratefully lining up for their food parcel. But more is needed. Our next goal is to double our current capacity to 600, and then hopefully more.  
All meals are ordered with local suppliers – creating much needed jobs along the way – and are served in natural, biodegradable parcels that are plastic and styrofoam free. 
hotelsjoininghands.com – The Donation Page
The partnership has resulted in website namely hotelsjoininghands.com and features a direct link to make donating easy. For all our US friends, your same currency contributions will not only be greatly appreciated, they will be tax deductible too. 
Please do feel free to contact any of us if you would like to know more or jump on board.
karl@mulberry-boutiquehotel.com // www.mulberry-boutiquehotel.com
christian@jayahousehotels.com // www.jayahousehotels.com