When someone says Ban Bu, most people would think of the fame stone-polished bronzeware (Khan Long Hin; ขันลงหิน). But fewer people know that it's also where the last generation of makers of those "handmade legacies" lives with their lasting culture and wartime historical memory since the Thonburi reign. These breathing legacies can be categorized as "hard" ones referring to those that are made into hard stuffs like metal, bronze, etc. and "soft" ones with delicately handmade process into desserts, traditional medicines, and paintings. Wanna learn more about Ban Bu? Here is what Ban Bu made of…. these legacies!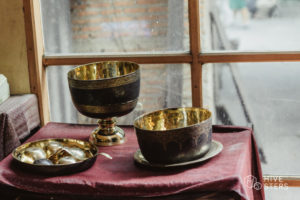 The ancestors of the community migrated after the second fall of Ayutthaya in 1767 and later settled down near Bangkok Noi canal across on the Thonburi bank of the Chao Phraya River as a community of artisans and expert smiths. The name of the community is derived from the craftspeople's process of hitting and forming metal into shapes. With its captivating historical atmosphere and strategic location, Ban Bu community is fulfilled by Thai society's fundamental basis like temple, market, school, hospital, train station, and pharmacy. This even makes the bond of the people toward the community stronger. You can enter the community either from Thonburi Railway Station or Charansanitwong Rd. Soi 32. […]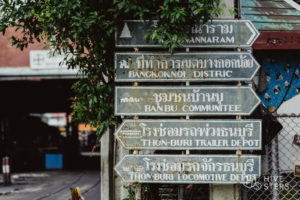 Within the Ban Bu community is Jiam Sangsajja bronze factory, the only remaining maker of Khan Long Hin or stone-polished bronzeware (Khan Long Hin; ขัน ลงหิน) in Thailand, an ancient craftsmanship handed down to the sixth generation since the Ayutthaya era. There are six steps to creating it, the toughest being the first, which involves heating of the alloy and skilfully beating it into shape. It is the process that later became the name of the community 'Bu'.
Since the process is very sophisticated, and relies entirely on proficient skills, Khan Long Hin has ceased to function as a utensil of daily use; these days it is more of a high-priced decorative item or collectible. Now it is disappearing. There are six steps of making the bronzeware at Ban Bu; heating, shaping, lathe smoothing, filling, polishing and shining. The last process of pattern painting now is sent to Chachoengsao Province. There are less than 10 people who are still making it and each person is responsible for each step. Most of them are retirees nearing to 60 and older, but they still work because they love what they do. It's in their blood. Sadly, the younger generation does not want to continue as it's a hot, laborious and tedious process to work as Khan Long Hin craftsmen. […]
Ban Bu's name may appear in people's mind as a community of artisans, yet it has more than that! Local lives, century-old market, murals at temple and the hard-to-find dessert. However, these amazing cultural handmade legacies here are fading with times. These are hidden in their past, but with your help, together we can bring them back into the limelight again and save them from disappearing by visiting and sharing about them.