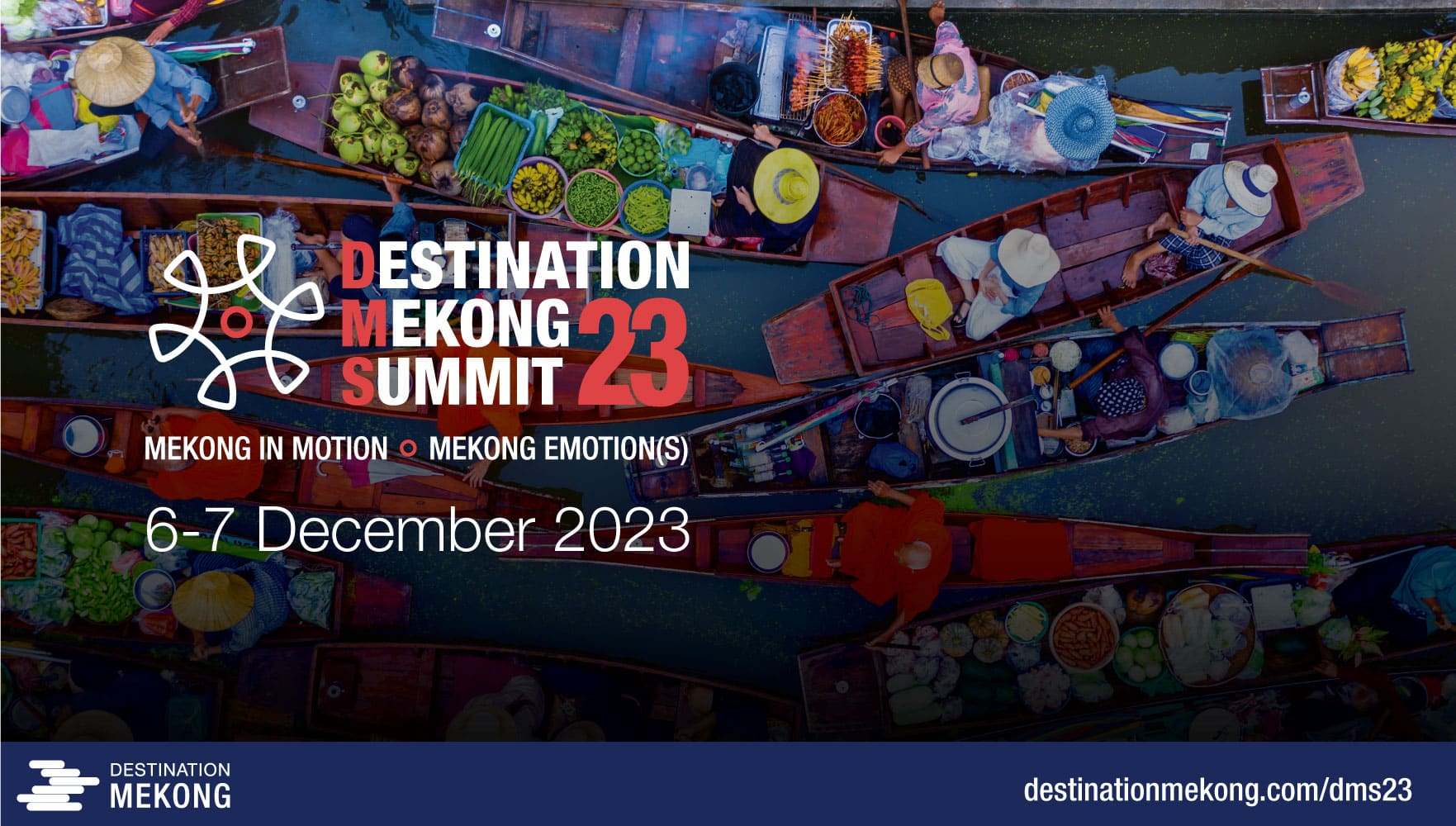 27 November 2023, Phnom Penh, Cambodia
Destination Mekong invites the tourism industry to their 4th edition of the Destination Mekong Summit on 6 and 7 December in Phnom Penh, Cambodia, under the theme "Mekong in Motion, Mekong Emotion(s)".
Destination Mekong (DM), the private regional tourism organization of the Mekong region, is thrilled to announce the highly anticipated Destination Mekong Summit 2023 (DMS23) set to take place in the vibrant city of Phnom Penh, Cambodia, and simultaneously online on December 6th and 7th, 2023.
Hosted annually, the premier event of the tourism industry in the Mekong region provides a unique and dynamic platform for all industry stakeholders – policymakers, practitioners, thinkers, changemakers, and investors to come together, exchange ideas and insights, and contribute to sustainable tourism growth in the region.
Fostering Tourism Innovation and Sustainability in the region
With a focus on innovation and sustainable tourism practices, DMS23 aims to foster collaboration, provide a platform to exchange ideas and devise strategies to propel the tourism industry forward responsibly and harmoniously.
Hosted at the Sales Center of its key partner and Destination Mekong executive board member OCIC Cambodia, the Summit will offer a blend of in-person and virtual engagement, ensuring accessibility and inclusivity for a global audience.
Insights and Dialogues Driving Change
Attendees can anticipate a dynamic agenda featuring inspiring stories by key players, dynamic panel discussions, and interactive workshops covering a diverse range of topics critical to the region's tourism landscape.
Over two days, the afternoon plenary panel sessions include:
The Future of Travel in the Mekong Region: What to Watch in 2024 and Beyond;
Empowering Tourism Players with Essential Skills and Standards;
Nearing a Zero-Waste Tourism Future through Innovation and Collaboration;
Sowing the Seeds of Change through Food, Farm and Agri-Tourism;
Advancing a dynamic model of adventure and community-based eco-tourism for the region;
Championing the Region as a Creative and Transformative Tourism Hub.
For the first time, the event will also feature personal "Mekong Stories" of individuals working in the tourism industry, including Dr Jens Thraenhart, Founding Partner of UNWTO Affiliate Member Chameleon Strategies, François Schnoebelen, Director of EHT Paul Dubrule, Melita Koulmandas, Founder & CEO of Songsaa Collective, and Sokleap Ngon, CEO and Co-Founder of Smiling Gecko Cambodia.
"Looking at the agenda for this year's DMS, I am struck by the amazing talent within the Mekong region and the really positive future for both the Mekong Region and Destination Mekong as an organization. Mekong is in motion and there is only one direction – forwards!", praised Mark Bibby Jackson, Chair of the DMM Executive Board. A full program and speaker list can be found on the event website at www.destinationmekong.com/dms23
"The 4th Destination Mekong Summit is an important milestone since the launch of this important private-sector-led regional destination marketing organization for the Greater Mekong Subregion as part of an innovative public-private sector framework alongside the public-sector owned Mekong Tourism Coordinating Office. I look forward to attending the event in Phnom Penh to join other industry professionals and debate how to make tourism a force for good to drive balanced tourism growth and inclusivity and build back better after the pandemic to create jobs and strengthen communities. This is a critical event for busy tourism professionals to carve out some time to focus on collaboration and cooperation in the industry," said Jens Thraenhart, Founder of Destination Mekong.  
Mekong in Motion, Mekong Emotion(s)
The DMS23 offers ample opportunities for networking and business development among tourism stakeholders from various backgrounds, fostering connections and partnerships that can drive positive change in the Mekong tourism sector.
In particular, The Summit's first day will conclude with a networking reception at the DIB Club at Aquation Park, featuring an exciting Mekong cocktail competition and offering attendees a relaxed atmosphere by the poolside, just a 3-minute walk from the main venue.
The Summit will also feature a marketplace designed as a journey towards exploring a variety of key players of the travel, tourism, and hospitality industries in the Mekong region.
The second day of the DMS23 will start with an industry matchmaking breakfast and two concurrent series of workshops. Participants will have the opportunity to enhance their skills and knowledge through hands-on workshops and training sessions.
Workshops on the morning of 7 December cover the topics of:
Protecting children and vulnerable communities
Digital Transformation for the tourism and hospitality sector
Simplifying sustainability: 4 key ingredients to authentic action that makes an impact and doesn't cost the earth.
Promoting Cambodia as a Wellness Destination
Re-enchanting Mekong Destinations: The Case of Phnom-Penh
"We invite everyone working in the tourism sector in the region to the Destination Mekong Summit. It is not just an event; it is a movement calling for action and connection, a catalyst for innovation through collaboration, and an inclusive community inviting all its members to engage in the positive transformation of the Mekong region," stressed Catherine-Germier-Hamel, CEO of Destination Mekong.
Join the Conversation
Registration for the summit is currently open. Interested participants can visit the official DMS23 website at www.destinationmekong.com/dms23 for more information, speaker details, registration options, and partnership and sponsorship opportunities.
-ENDS